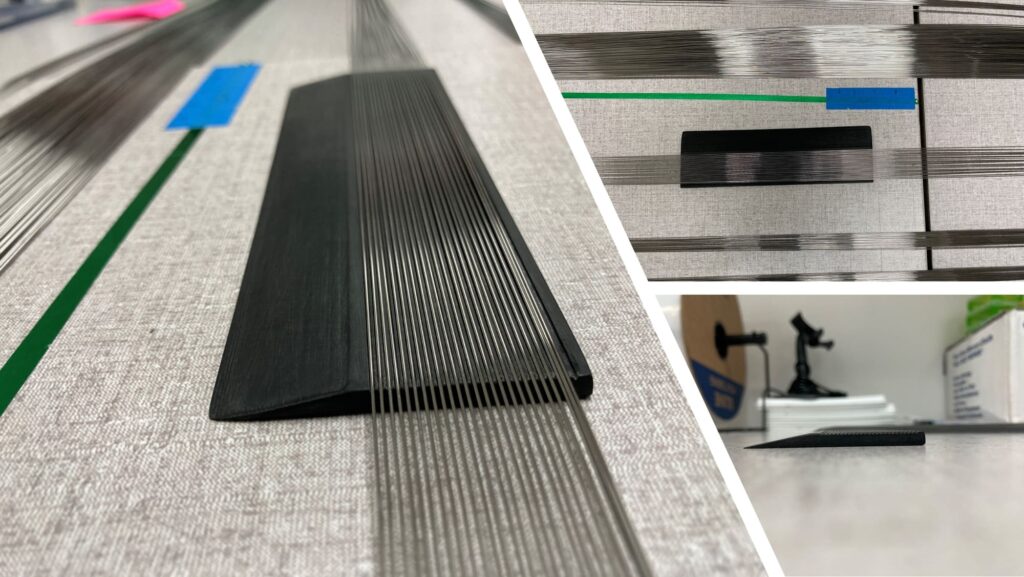 Harrison (Harry) Lo is a bright mechanical engineer co-op from Drexel University's School of Engineering. He joined the Meron Medical team for a summer internship to balance classroom theory with practical, hands-on experience. With interest in engineering process analysis and quality assurance, Harry dove into various aspects of our medical component manufacturing while continually exploring opportunities to improve processes.
When tasked with manually counting and packaging hundreds of guidewires, Harry had a project idea to help make inspecting and packaging them more efficient and accurate. So, he collaborated with Meron Medical and KVI quality and engineering teams on a slotted counting tray, a time- and precision-boosting tool created with our new 3D printing technology.
In this article, we'll uncover the details of this interdepartmental innovation and how we're using the tray to elevate our guidewire inspection and packaging processes.
First, we'd like to introduce you to our 3D printer, the latest state-of-the-art technology to join our ever-growing family.
About our 3D printing technology
Additive manufacturing, or 3D printing technology, is a computer-generated process that creates three-dimensional materials for prototypes, tools, and parts. With a steady pulse on the technologies paving the future of manufacturing, we invested in the Ultimaker S5 Pro, a 3D printer for enhancing our mission-critical component manufacturing processes for clients in aerospace, medical, and other high-tech industries.
Housed at our KVI Group headquarters in Huntington Valley, PA, this ultramodern technology helps:
Boost overall equipment efficiency (OEE)
Improve productivity
Enhance standardization processes
Reduce costs
Double down on the commitment to continuous improvement
One of the greatest advantages of our 3D printing technology is the ability to share digital parts and ideas across multiple sites and departments, promoting just the level of collaboration we envisioned when we merged three world-class companies: KVI Group, M&S Centerless Grinding, Inc., and Meron Medical.
Putting our 3D printing technology to work
In his quest to improve the speed and accuracy of inspecting, counting, and packaging guidewires, Harry worked alongside KVI Group's Manufacturing Engineer Zachary McDonald and other quality department personnel to brainstorm ideas to leverage our new 3D printing technology for process improvement. The idea was to reduce the demand for manual counting by developing a 3D-printed tool: a 25-slot counting tray that gently separates guidewires into individual slots for easy counting, inspection, and packaging. Once all the slots are filled, the excess wires slide away for a subsequent 25-wire increment, remarkably expediting the process and enhancing precision.‍
Over several weeks, Harry, Zachary, and other KMM Group team members tested and tweaked seven 3D-printed sorting tray iterations of varying sizes, elevations, and specifications. They eventually landed on a Goldilocks version that Harry sanded and finished for a smooth hand-feel. Today, the slotted counting tray concept born of our new 3D printing technology is in use on a 40,000-wire job.
"With this tool, we were able to cut guidewire counting time down to three seconds," said Harry. "That's several times faster than manual efforts and even more accurate."
Creating a toolbox for continued process improvement
With a system for developing slotted sorting trays with our 3D printing technology, we can now customize additional trays to further simplify and enhance the inspection and packaging process on future jobs. Other 3D-printed trays are also underway, including a complete toolbox of sorting trays in various diameters.
"I think this experience has demonstrated our willingness to innovate and think outside the box," Harry added. "When you believe that you can do things differently, make them better, easier, more precise, and more accurate, there's a genuine innovative spirit at play – and we have it."
To learn more about our new ISO 14644 cleanroom or our medical component manufacturing capabilities, contact our team online or call 215-383-9996.