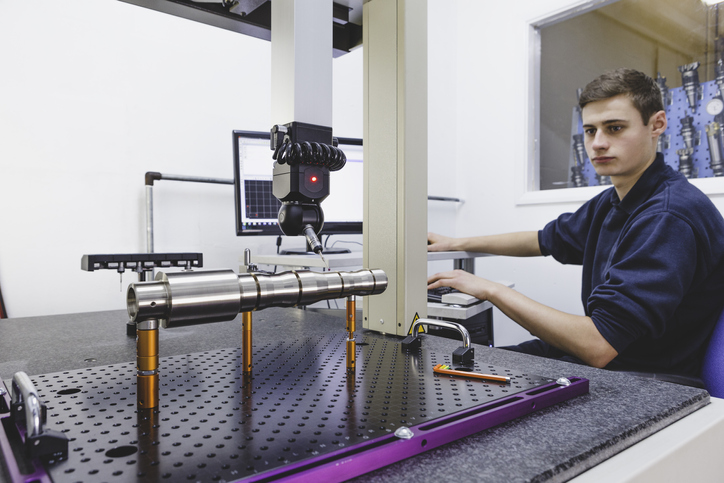 As we in the manufacturing sphere all know, accuracy describes how closely a part conforms to a tolerance within a specified dimensional range. The closer a part conforms to your standards, the better your results. Ultra-precision component manufacturing levels up the notion of accuracy with the ability to hold diameter size, roundness, and cylindricity to sub-micron levels for exceedingly demanding requirements. 
When such exactness matters, how do you know whether your parts are truly accurate? The answer boils down to metrology, the science of measurement. Highly sophisticated metrology equipment can validate results with remarkable precision, making it essential for mission-critical applications.
This post will introduce you to the following five types of high-end metrology inspection equipment we use to guarantee the accuracy and precision of the parts we manufacture:
Coordinate measurement machines (CMMs)
Form & cylindricity testers
Keep reading to learn more about these advanced metrology inspection tools, meet the high-end equipment in our facility, and discover the features we rely on to achieve ultra-precise results.
Vision Systems
Vision inspection systems offer image-based inspection capabilities to measure parts, verify part position, identify part shapes, and sort parts. 
Our Vision System Equipment
OGP's SmartScope with TP20 Touch Probe System combines optical, laser, and tactile sensors to measure parts more completely and accurately in less time. In addition, it features a touch probe system for optimum scanning performance.
Versatile dimensional capabilities

Efficient and accurate results

3D and CAD-based measurements
The P4K Gauging System by Glebar features high-speed, high-accuracy optical micrometer technology that scans geometric profiles, providing diameter and length readings every 30 millionths of an inch.  
Accurately scans geometric profiles

Offers point-to-point dimensioning with excellent zooming capabilities

Warns operators before a part goes out of tolerance
Coordinate Measurement Machines (CMMs)
CMMs measure the geometry of a component using a probe to sense discrete points on a part's surface. The advantage of this technology is that it can evaluate difficult-to-measure features to ensure accuracy.
Our CMM Equipment
Zeiss's Contura is a full CNC scanning CMM. Our equipment includes CALYPSO software to measure four dimensions using an adjustable rotary table and articulating probe for first-class performance and accuracy.
High precision performance

Integrates advanced optical sensors

Maintains reliable accuracy in less time

CALYPSO software generates 3D data evaluations & helpful reports
Laser Micrometers
A laser micrometer measures a part's dimensions, shape, and uniformity using non-contact laser scanning technology. As one of the most reliable manufacturing metrology tools, laser micrometers deliver incredibly accurate measurements.
Our Laser Micrometers
Our production facility includes multiple Z-Mike 4050 laser micrometers. This powerful measurement equipment provides fast, accurate, and repeatable dimensional measurements, including outer diameter, inner diameter, ovality, multiple ODs, and part position.
Accuracy: ±0.000030 in

Range: 0.010 to 2.0 in

Resolution: ±0.000010 in
Form & Cylindricity Testers
Form metrology determines the overall component shape, including its roundness and cylindricity. Form testing equipment often uses a sensitive stylus that directly contacts the surface, allowing accurate measurement of ultra-precise complex parts.
Our Form & Cylindricity Testing Equipment
The Mahr MMQ-400 Roundness and Cylindricity System is a universal form measuring machine that can evaluate all standard form parameters, including roundness, concentricity, cylindricity, straightness, parallelism, perpendicularity, angularity, and taper. 
Roundness: 0.01 + 0.00025"

Straightness: 0.3 µm/total measuring path

Parallelism: 0.5 µm
Optical Sensors
Optical sensors use light to measure part accuracy. Thanks to technological advances in optical sensors, we can use this metrology equipment to provide fast and accurate component measurements during the manufacturing process.
Our Optical Sensor Equipment
The Keyence High-Accuracy Instant Measurement System is an optical sensor that helps validates our results with exceptional precision. This advanced system delivers:
+/- 0.7 μm accuracy 

+/- 0.1 μm repeatability

Detailed inspection reports
The key to achieving exceptional precision and accuracy is investing in state-of-the-art metrology equipment to measure our results and prove their accuracy using detailed reporting capabilities. Our continual commitment to outfitting our production facility with the latest technologies is just one reason we are better equipped to solve today's aerospace, medtech, defense, and other high-tech manufacturing challenges. Contact us to learn more about our metrology equipment and the highly experienced team putting them to work every day.