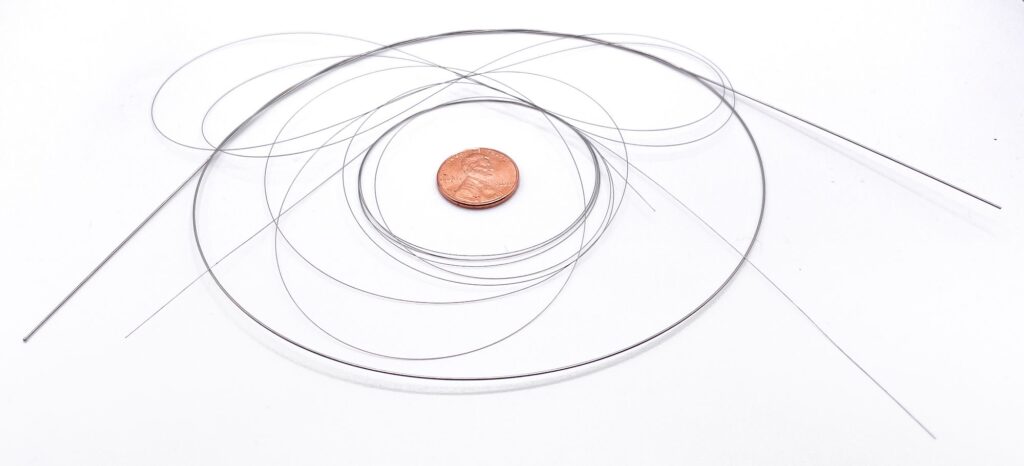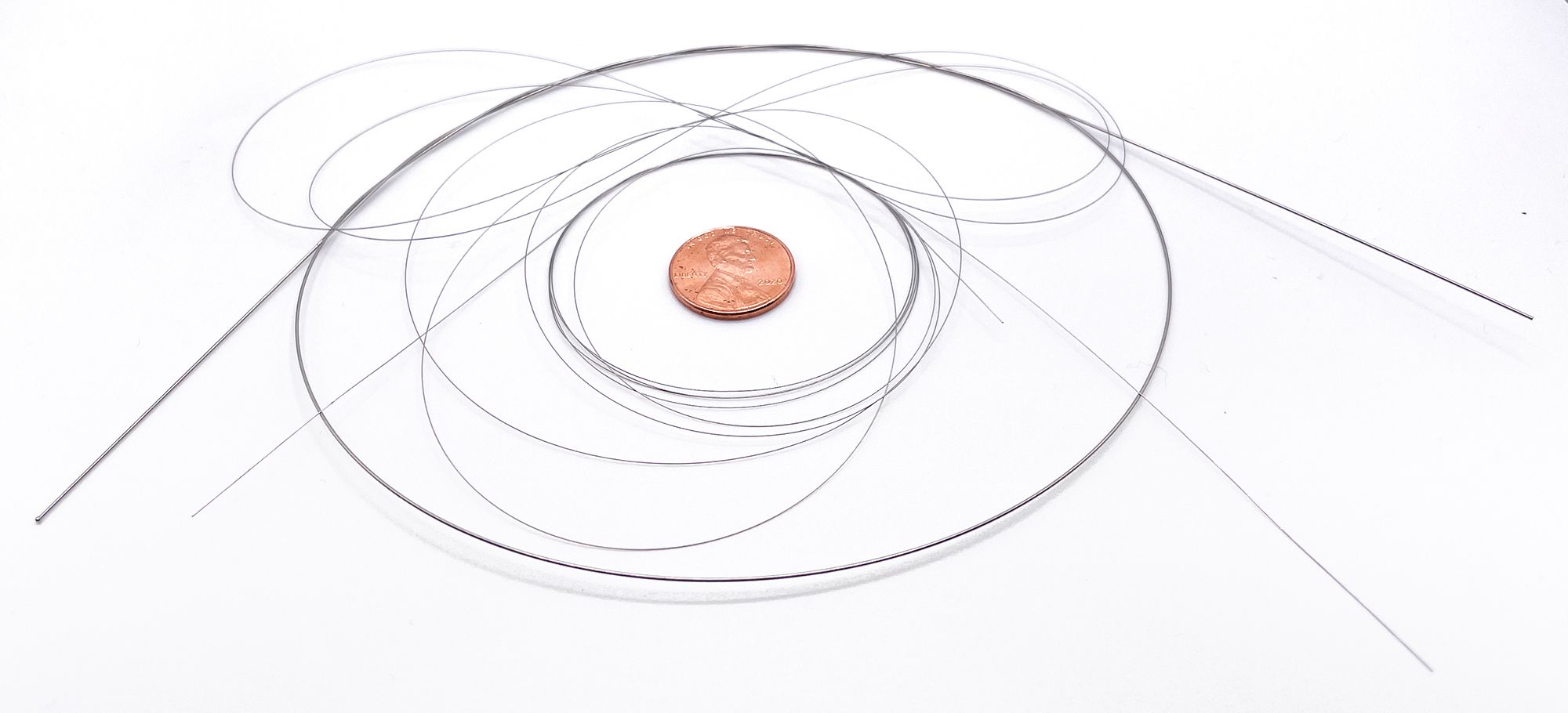 Medical guidewires are often the most critical component within an ever-growing portfolio of interventional devices used for neurovascular, cardiovascular, and peripheral vascular procedures. These wires lead, or 'guide', life-saving devices to address critical patient issues such as aneurysm coiling, clot extraction, interventional cardiology, angioplasty, neuromodulation, and thrombus busting and extraction. These high-precision components are commonly made from one of several materials: stainless steel (SST), Nickel-Titanium (NiTi), or a Nickel-Cobalt alloy (MP35N).  Occasionally they will also be engineered and made from precious metals, but may also feature exotic alloys, such as Hastelloy.
As guidewires have become increasingly smaller and more sophisticated, manufacturing them takes exceptional precision and skill to ensure optimal performance when lives are literally on the line.  The following are three foundational elements for making medical guidewires poised to meet today's exacting requirements:
Highly Specialized micro-grinding techniques
Latest state-of-the-art equipment
A rigorous QMS (Quality Management System)
In this post, we'll dive into this trifecta, highlighting how each facet contributes to the guidewire-making process.
Highly Specialized micro-grinding techniques
Medical guidewires are made using a subtractive manufacturing process.  The process begins with a raw wire at a particular starting diameter.  There are two primary high-precision micro-grinding techniques to remove, or "grind," guidewire material according to the wire's profile and specifications. The optimal grinding method depends on the complexity of the overall design of the wire.  There are a variety of features (tapers, flats, steps, arcs, threads, radii, etc..) that can be imparted onto the wire, and which can ultimately lend maneuverability and torque to the wire based on the end use application requirements.
Centerless mode: A version of high-precision centerless grinding which is the ideal technique for less complex guidewire geometries. This method employs a wider grinding wheel which helps maintain a high-level of length and diameter control at relatively fast throughput speeds resulting in highly efficient processing of the wire.
Outer diameter (OD) mode: Highly complex guidewire geometries can be achieved through OD mode grinding which features a narrow grinding wheel. In this technique, the part feeds through hydrostatic bushing while the narrow grinding wheel interpolates the required geometries for ultra-precision results.
Mastering these guidewire manufacturing techniques depends heavily on the skill and ingenuity of its operators. However, even the most skilled operators in the world cannot outsmart outdated equipment.
Next, we'll cover what you need to know about the role of modern high-tech machines in producing life-saving medical guidewires.
Modern high-tech equipment
Making medical guidewires requires modern grinding equipment designed to meet increasingly challenging technical demands. The highest caliber guidewire grinding machines are capable of achieving near-zero tolerances, helping to produce intricate part features, complex geometries, and diameters as small as .002." These state-of-the-art powerhouses feature a single grinding wheel with two blades, where one is positioned on the bottom, and the other is kicked at an angle for back support, forming a funnel-like shape for feeding parts into the machine.
Here's an overview of how medical guidewire grinding machines work:
Wires feed into the equipment using an automated stock feeder or by hand
A granite base provides rigidity, thermal, and vibration stability to improve accuracy
Wires grind inside a contained mist-free work envelope while operators control the position, speed, and rotation of the grind
Pinch rollers stage the next wire
Finished guidewires travel to a holding tray
To effectively work with wires that have diameters skinnier than human hair, skilled operators must deploy critical thinking and problem-solving skills to solve any challenges that may arise. From selecting the proper grinding wheel to factoring in the effects of coolant type and flow, air temperature, and several other variables, grinding today's medical guidewires requires much more than button-pushing.
Next, let's explore the importance of a rigorous quality-controlled process for making highly precise medical guidewires.
Rigorous Quality Management System
The final and perhaps most critical consideration in making medical guidewires is a robust QMS and quality-controlled process that includes inspections, monitoring, and documentation at every step.
This process may include:
Wire profile inspection equipment that continually monitors lengths and diameters during production
Highly skilled operators trained to routinely double-check the work
Quality control (QC) inspectors that perform roaming inspections to scan wires and review the automatic profile of the inspection equipment
A final inspection involving cleaning, packaging, and documentation
With a combined 100 years of experience, we have the passion, perseverance, and integrity to solve medical guidewire manufacturing challenges that others avoid. Our accomplished team is adept in critical thinking and efficiency, providing ultra-fast turnarounds in days or weeks instead of months. We also have rapid prototyping services available.
Our high level of communication and responsiveness give you open and direct access to critical members of our team, from executives and project managers to production and quality control specialists. In addition, we continually invest in the latest state-of-the-art production AND inspection equipment to ensure we're meeting the future of manufacturing today, never forgetting the big picture: we're here to help you succeed and change lives for the better.
To learn more about medical guidewires and manufacturing solutions for the MedTech industry, reach out to us.