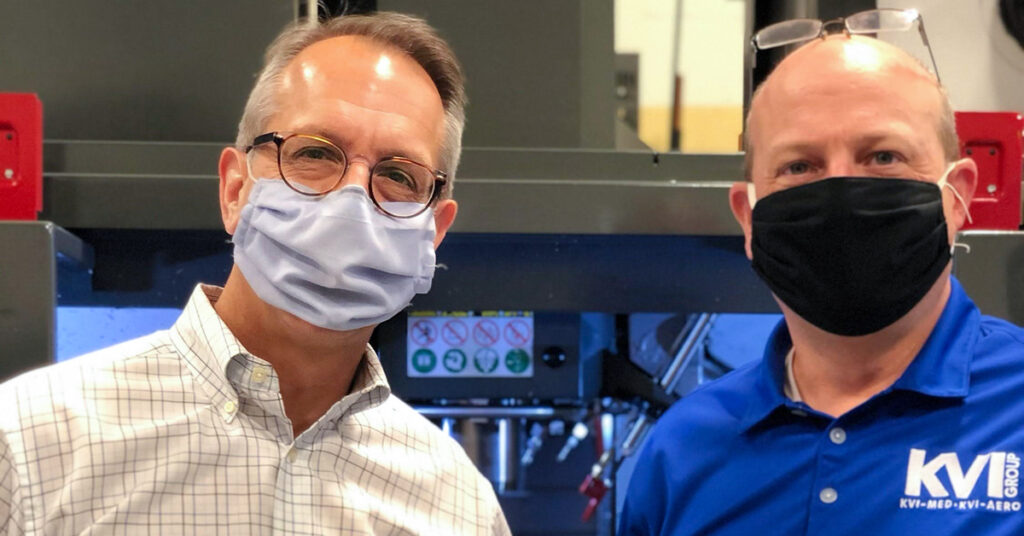 At this point, most of you receiving this newsletter are aware that M&S Centerless Grinding and Meron Medical, have formed a joint-venture/merger with a machining company, KVI Group, to form a new group called KMM Group, Ltd. My new partner, Eric Wilhelm, and I have received much correspondence from our colleagues in the industry that not only express some form of congratulations, but often also ask the question – "why?". This was a huge decision that impacted over 80 people, and completely changed two second-generation family-owned companies that have been around for a total of 100 years! We didn't need to do this! We were independently successful and financially sound. What would our fathers think about this!? Well, there were a number of factors that drove this decision, but I would bet that the ones that Eric and I felt had the greatest weight are not the ones that would come first to mind.
This merger was about creating long term viability, and sustainability for the company, and our people. It addresses shortfalls that we each saw within our individual companies that would have left us struggling to keep up with industry-specific demands, capital requirements, the overhead efficiencies the market is seeking, and the coming requirements of Industry 4.0. It was about gaining critical mass, and synergy….and doing it on our terms. Thinking about these things, the more we looked at it, the more excited we got.
Sure, there were certainly some short-term reasons to make this happen. Financial synergies – we could save costs on sales, trade shows, accounting, etc… and the fact that the combined KMM Group makes a better, and more complete, offering to many of our clients led our thoughts in this regard. These things are great, and they will make KMM a more diverse, and more cost-effective, vendor to our clients, but if this was just about cost efficiencies, our decision to merge would have been significantly more difficult.
The things that really juice us about this merger are the ones that we feel truly move us toward greatness. We are creating a legacy. We are committed to ensuring that this company will be around for generations after we are gone. Our focus is to change the game, to be part of a new breed of manufacturer. One that thinks big, and acts boldly, but treats its clients like they are the only one they serve. One that can stand toe-to-toe with our much larger competitors in the industries we serve, and beat them at their own game. One that proactively addresses the needs of the large Aerospace and Medical clients, is at the forefront of investment in new technology, and fully supports the adoption of Industry 4.0 (see Industry 4.0 blog).
To do all of this in a relatively short period of time would absolutely be a struggle. We did not feel that our individual companies had the critical mass to grow fast enough to be able to support these initiatives organically. To become this company we needed size, and greater capability. We needed to fill out our systems, and address gaps that existed in our organizational charts, and do all of this while maintaining the cultures that we had worked so hard to develop over the last 10 years. We considered equity investment, but neither of us could get past having to give up control, and were very apprehensive about what this would do to the culture. At the end of the day, this would not be about achieving greatness to an equity group. It would only all boil down to maximizing their investment. No, if we were going to have a shot to create a legacy that would outlive us, we needed to control it ourselves. When we turned our eye toward the possibility of bringing our companies together, things began to fall into place.
Though we are merged legally, we still have a long way to go before we will be able to say this project is complete. We continue to maintain our individual facilities, and most of the day-to-day operations have not changed very much. Some higher-level systems are now under the microscope, and we are beginning to make some progress in acting as KMM Group, instead of separate units.
We will share our victories, and our struggles, from time to time. We know that we are doing something that is uncommon, but we feel that it could provide an alternative pathway for some of you out there, and want to help to provide some guidance if we can.
Stay safe and stay well!