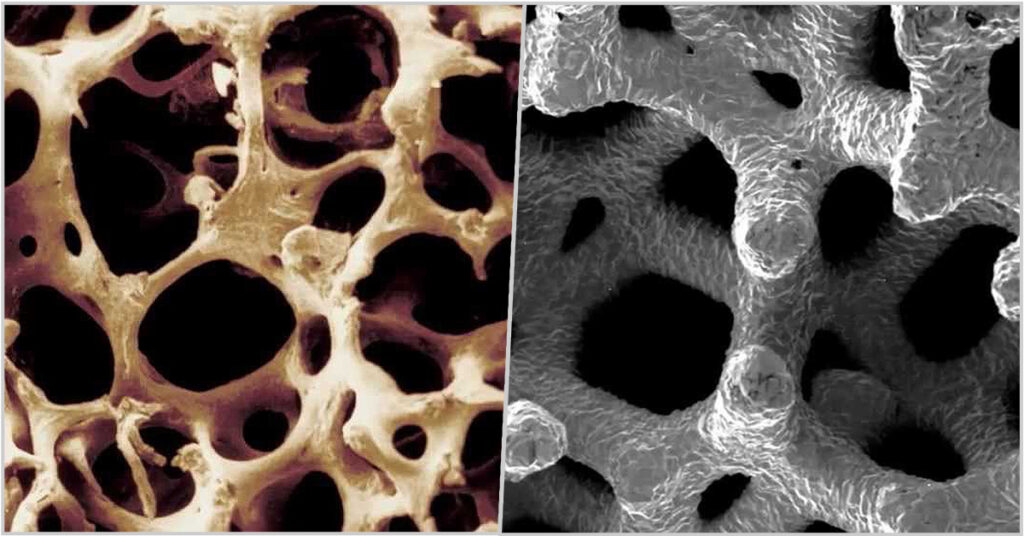 Have you ever worked with biomedical materials, in particular Trabecular Metal? Do you know what Trabecular Metal (TM) is? In the picture above, the TM is on the right, and a picture of the structure of bone is on the left. The, obviously, similar structures of the two, fosters the ability of the bone to mesh with the TM when it grows (osseointegration), making it a huge benefit in Orthopedics, and joint replacement. Conventional Machining methods "need not apply" when faced with TM – they would smear the material and fill in the voids greatly diminishing its sole benefit. The only way to work with this material is EDM. Over the last few decades, EDM has found its place in many applications that require thin walls and complex designs that are near impossible to machine conventionally.
Certainly, most of you taking the time to read this article know what EDM is, and maybe even do a little of it yourselves! But, maybe, by getting a glimpse of how far we are pushing the envelope in EDM, some doors of possibility in your mind may open.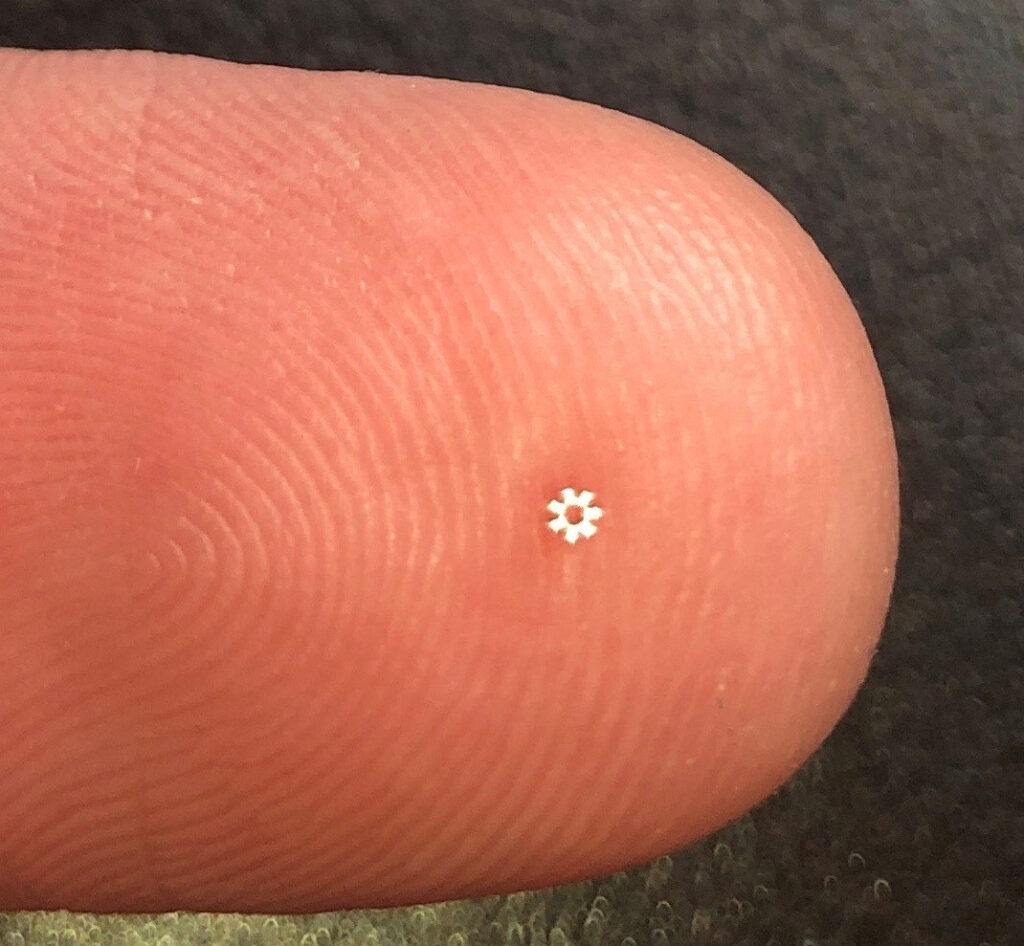 A picture is worth a thousand words – the picture at left is of a micro-machined component for a medical device – manufactured by EDM. Parts measured in microns, thin-walled tubing, parts with extraordinary geometry requirements are all everyday occurrences at KMM GROUP in the EDM department.
Real Life Solution #1 – KMM GROUP has an application that required micromachining of components in pallets using cutting tools as small as 0.0030" diameter, maintaining consistent part to part tolerances of +.\-.0002" daily 24-7. The challenge for such a small part measuring 2mm sq. x 1.5mm tall with (7) independent machined features, is how could we part off and hold such small components without damage/scrap and maintain burr free sharp edges? Our engineering team designed and developed customer work holding to fixture these part pallets that supported both machining and Wire EDM. The EDM process allowed a perfect parting of parts maintaining 0.0004" tolerance and burr free sharp edges, with the added benefit of worry-free part removal from the fixtures with no damage to the parts. Perfect parts every time. When the customer needed KMM GROUP to scale production 2.5X, we were able to adapt the fixtures to a robotic work loading system that provided round the clock, uninterrupted production.
When combined with strong engineering expertise in fixture and tool design, EDM has proved to be an excellent solution for producing parts in high-volume applications, or on projects with complex part geometries. Work-holding design and having the ability to make highly-complex electrodes are especially critical factors in challenging applications. Success on the project is measured not only in meeting the print requirements, but in achieving cost effectiveness for the customer.
Next level understanding of GD&T, and the use of creative techniques like part ganging, which allows the ability to EDM several parts at one time, or combining capability in multiple machining disciplines, all contribute to achieving successes where others have struggled.
Real Life Solution #2 – KMM GROUP has produced tissue clamping jaws for a micro invasive surgical instrument. The parts were customarily produced by other suppliers of our customer using swiss machining technology. The issue from these suppliers resulted in over 25% scrap rates and dimensional inconsistency primarily due to the lack of rigidity and support that was possible in conventional machining. No way around it. KMM GROUP adapted swiss screw machining with a second operation using Wire EDM. Our engineers developed a unique work holding system for wire EDM and reengineered the machining process to support secondary EDM work-holding. The results were consistent, and the customer was elated with the quality and the overall cost of ownership for the project as this yielded more competitive pricing and erased the 25% scrap rate from the previous process.
In short, EDM brings to life those projects with challenges in complex designs, thin walls, or hardened metals, making them a reality with affordable economics. With over 40 years of EDM experience, KMM GROUP is your expert EDM resource to ensure your project's success. Contact us directly at /request-a-quote/, or for more information check out our precision machining capabilities.
KMM GROUP's EDM Quick Facts
Ultra-Precision Wire EDM
Expert Engineering
Tolerances – Less than .00010"
Rapid Turnaround Service
EDM Drilling
Fine Finishes to 4 RMS
Robotic Automation with B-Axis Technology for High Volume Rotary EDM
Inside Corner Rad .0012" on 1.00" Thick Work Piece Capacity using 0.0020" Diameter Wire
Tall Workpieces up to Nearly 12.0"
Large Taper: 15 Degrees @ 10.5" tall