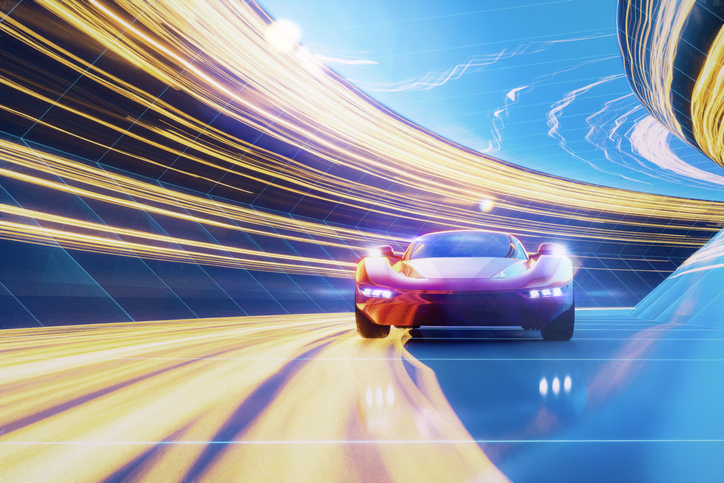 When 23-year-old rookie Austin Cindric ran a thrilling race to win the 2022 Daytona 500 in a wild finish, he debuted the new, highly anticipated NASCAR Next Gen race car. While the engine features the same pushrod V8 engines as outgoing NASCAR cars, one critical aspect changed: power. After a chorus of calls for more horsepower, NASCAR announced a 670 hp engine package, giving the 2022 Next Gen cars the extra juice to fuel excitement for a new era of racing.
As the demand for powerful engines grows among NASCAR and other racing organizations, engine manufacturing techniques have raced forward, too. This article profiles 5-axis CNC machining, an exacting component manufacturing process capable of producing increasingly powerful race engines. 

What is 5-axis CNC machining?
During 5-axis machining, a CNC machine can move a part or tool on five different axes simultaneously. This functionality differs from 3-axis techniques that only operate on three primary axes: X, Y, and Z. With 5-axis machines, the two additional A and B axes allow us to approach the part from all directions.
Uses five axes instead of three

 

Offers a multi-directional approach
Increases the complexity of movement
As a result of these capabilities, 5-axis CNC machining can achieve the unique shapes and tight tolerance requirements that contribute to powerhouse engine performance.
Advantages of 5-axis CNC machining
Five-axis CNC machining is an advanced component manufacturing process that can help produce more complex and intricate parts, save costs, and expedite lead times. Learn more about these three primary advantages below.
Produces more complex and intricate parts – With two additional axes of motion, 5-axis CNC machining can produce highly exacting components for more powerful engines with less tooling and equipment adjustments than other machining methods.

 

Saves costs – Five-axis CNC machining can also keep your engine manufacturing project costs down, thanks to shorter setup time and less labor required to adjust the machines.
Expedites lead times – With shorter cycle times, a 5-axis CNC machine can also produce race engine parts and other components fast, often completing them quicker than alternative machining techniques.
In the next section, we'll introduce you to two industry-leading 5-axis equipment partners we trust to help us produce timely and accurate components for a more powerful racing engine. 
Our industry-leading equipment partners
Meet two of our industry-leading 5-axis equipment partners below, each celebrated and recognized for their advanced technologies and precision performance. 
Haas
Haas Automation is one of the world's largest builders of CNC machines. We use their USA-made 5-axis CNC equipment because it's designed to increase accuracy on multi-sided and complex race engines and other parts. Haas technologies also help reduce our setup times for greater cost efficiency on a budget-conscious component manufacturing project.
USA-made equipment
Largest CNC machine builders in the world
Can meet varying needs and budgets

 
DMG Mori
We've also partnered with DMG Mori, a premium 5-axis CNC equipment provider. DMG Mori's dedication to producing exceptionally advanced machines help us meet the rigorous demands of engine component manufacturing today. Its efficient milling technologies allow us to manufacture ultra-precise parts according to the most stringent specifications.
Premium-grade machines and technologies
Exceptionally advanced machines and efficient milling technologies
Produces highly precise results
However, the world's most advanced 5-axis CNC machining technologies cannot replace the importance of highly knowledgeable equipment operators. With craftspeople averaging more than 30 years of experience and a company culture that values perseverance, innovation, and excellence, we have what it takes to solve your most complex race engine manufacturing challenges.
With the help of our 5-axis CNC machines and our specialized expertise, we can produce timely and accurate race-winning engine parts to help you cross the finish line first. Contact us to learn more about our full complement of component manufacturing services under one roof.