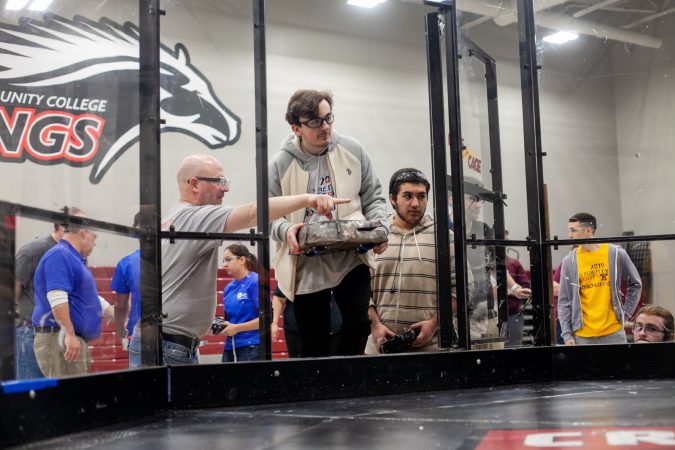 We're thrilled to announce the re-launch of Liberty Bots Robo-lution 2022 on Sunday, April 24, at Montgomery Community College. After a two-year hiatus due to the COVID-19 pandemic, this highly anticipated STEM program and National Tooling & Machining Association (NTMA) sponsored event is back for a second year! With mentoring help from local manufacturers, seven regional schools and eight teams have been busy designing, developing, and fabricating their battle bots for the 2022 competition.
As one of the primary event organizers, we're dedicating this post to Liberty Bots and the next generation of manufacturers. Plus, learn how you can attend this year's Robo-lution event!
About Liberty Bots
Liberty Bots is the NTMA New Jersey, Philadelphia, and NE Pennsylvania (NJPA) Chapter of the National Robotics League (NRL), a battle bot competition for engineering-minded high-school students. In collaboration with other industry professionals, we spearheaded this job-driven, project-based STEM learning experience to help solve manufacturing's challenge of recruiting a future workforce by engaging the next generation in the following ways: 
Hands-on designing & machining
The Liberty Bots Robo-lution is an exciting, collaborative event different from traditional robotics programs. Rather than receiving a kit and instructions, Liberty Bots provides hands-on experience designing and machining unique battle bots, lending more flexibility, independence, and creative freedom for students to explore.
Communication & project management
Beyond the design and fabrication aspect, Liberty Bots participants learn vital communication and project management skills. A log of their project and a presentation on the development experience and the challenges they encountered also contribute toward a team's overall score, giving participants real-life exposure to all aspects of robotics manufacturing.
Mentorship
We pair every Liberty Bots school team with a local manufacturer that has volunteered to mentor students and provide access to their facility, equipment, and professional expertise. Students are invited to tour their mentor facility to explore the interesting manufacturing projects in their own backyard. 
Engaging the next generation of manufacturers in these and other ways makes a difference. For instance, 82% of Liberty Bots students have entered or are pursuing a STEM career pathway, and 70% of participating schools have incorporated the NRL program into their curriculum.

In a video clip at the first Liberty Bots Robo-lution in 2019, KMM Group CEO John Shegda described the even larger impact of this learning experience, saying, "These kids learned things about life by doing this, not just about robotics." 
Our Liberty Bots Team
Promoting the future of manufacturing has always been at our core. We recognize and proudly give back to our community by participating in this and other programs to shed light on the wonderfully rewarding and lucrative career opportunities within our ever-evolving field. This year, we've paired up with a Liberty Bots team at Abington Senior High School. We look forward to guiding them on a tour of our state-of-the-art machining and grinding facility, where we produce ultra-precision components for aerospace, medtech, defense, high-tech, and other mission-critical industries. 
"The best part of the Liberty Bots program is interacting with students," said Sue Cloran, KMM Group Sales and Community Outreach Representative. "They're enthusiastic, engaged, and interested in the manufacturing process. It really is just so cool to see the look of accomplishment on their faces!" 
You're invited to join the Robo-lution!
If you're ready to see Liberty Bots battle it out inside the arena, join us for this emceed event!

Event details
What: Liberty Bots Robo-lution
Date: Sunday, April 24, 2022
Time: Starts at 11:00 am 
Where:
Montgomery County Community College
Blue Bell Campus
Health and Sciences Center
340 Dekalb Pike
Blue Bell, PA 19422 
Prizes & awards
This year's Liberty Bots Robo-lution includes three levels of prizes and awards: 
Grand Prize

– Our expert judging panel will award the grand prize trophy to the team with the best battle bot arena performance, interview, and documentation.

Coolest Battle Bot Award

– Peers and event attendees will vote for the coolest battle bot of the event.

Innovation Award

– The NTMA will present the Innovation Award for the team demonstrating the most innovative battle bot design.
Who should attend?
The Liberty Bots Robo-lution is for everyone! The event is free and open to the public.
Join us if you are:

Interested in starting a team at your school, and you want to check it out

A manufacturer interested in mentoring a future Liberty Bots team

Wanting to learn more about this workforce development program

Excited about supporting robotics and the next generation of manufacturing
To learn more about Liberty Bots Robo-lution, contact Sue Cloran or call (215) 675-4144.