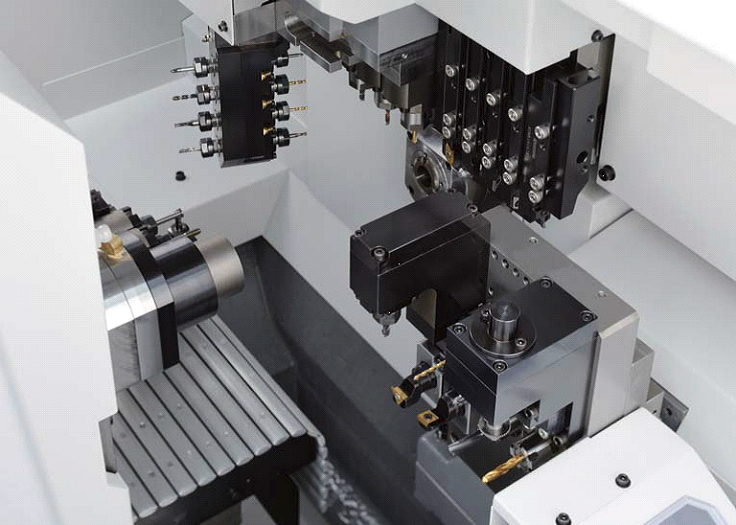 Swiss screw machining elevates the precision component manufacturing process with up to 13 axes, allowing endless possibilities. Using Swiss-type lathes with a turning center, Swiss screw machining first emerged in the Swiss watchmaking industry in the late nineteenth century. Later, Swiss screw machines evolved to become sophisticated enough to produce complex, high-precision components for today's mission-critical industries, such as aerospace and medtech.
This article will detail the practical advantages of 13-axis Swiss screw machining and the mission-critical components this highly specialized discipline makes possible.
Advantages of 13-axis Swiss screw machining
The 13-Axis Swiss screw machining process offers a range of practical advantages that enhance the accuracy and efficiency of your ultra-precision manufacturing project, including: 
Tight tolerances
The 13-axis Swiss screw machining process can produce high-precision components with tolerances as close as .0002", or 5 microns. The ability to cut closely and accurately allows us to manufacture tight tolerance parts readily and repeatedly. 
Tiny, complex components
Another advantage of 13-axis Swiss screw machining is its micromachining capabilities for tiny, complex components. The capacity to produce features as small as 0.002" allows for greater design flexibility in mission-critical applications. 
Less bending and deflection
One of the most beneficial features of 13-axis Swiss screw machining is its incredible stability for long, narrow parts otherwise subject to bending and deflection during the manufacturing process for increased accuracy and efficiency.
Wide material compatibility
13-axis Swiss screw machining is compatible with a wide range of materials, including aluminum, brass, bronze, copper, copper alloys, nickel alloys, plastics, stainless steel, and titanium. With seemingly endless options, Swiss screw machining achieves precise results without material constraints.
Expedited production times
Swiss screw machines save time by performing multiple operations simultaneously. In some cases, the multi-functional capabilities help eliminate milling, drilling, and other secondary operations for even faster delivery.
Low- or high-volume runs
Finally, 13-axis Swiss screw machining can handle low- or high-volume runs ranging from 50 to 500,000 parts, giving you a highly accurate and efficient machining solution for virtually any sized project.
In the next section, we'll describe a few of the mission-critical components Swiss screw machining can help bring to life.
Mission-critical applications of 13-axis Swiss screw machining
Thanks to advanced Swiss screw machining technology and our exceptional industry expertise, we can successfully produce ultra-precision parts for several mission-critical industries like aerospace and medtech, such as:

Connectors

Shafts

Bone and dental screws

Fittings

Hardware fasteners

Housings

Rods and connectors

Guide pins

Pivot pins

Studs

Shanks

Vascular tunnelers

Infusion port stems

Drills and reamers



Mastering the craft of 13-axis Swiss screw machining opens a world of possibilities for producing sophisticated mission-critical parts with exceptional accuracy and efficiency. Our seasoned engineering and machining teams bring decades of professional expertise, a deep understanding of the latest technologies, and an unparalleled drive to develop viable solutions to seemingly impossible manufacturing challenges. Learn more about our Swiss screw machining capabilities on our website or contact our team to learn how we can bring your ultra-precision project to life.
Are you interested in learning how we measure the accuracy and precision of the parts we produce? Head to our blog to check out our article on the types of metrology inspection equipment we use.