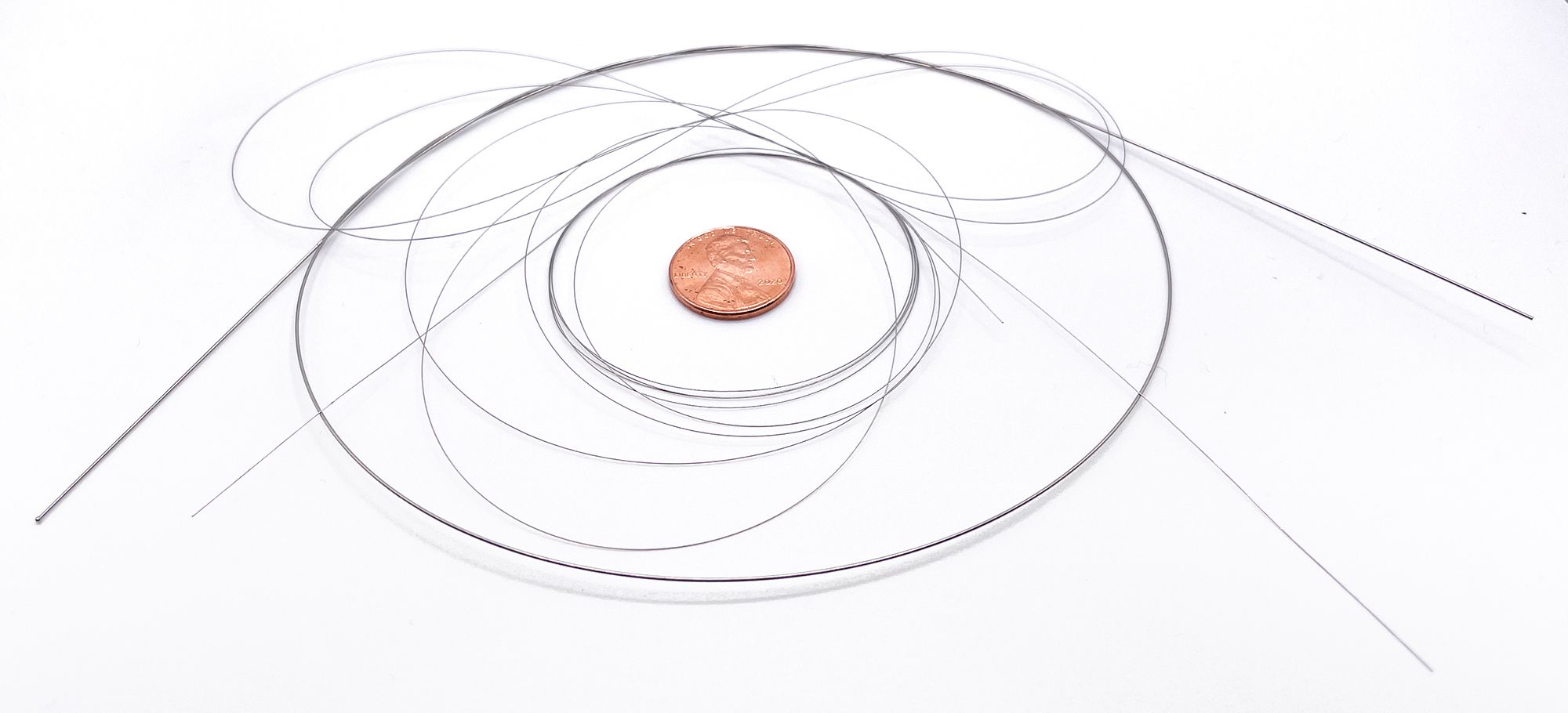 Guidewire grinding is a specialized process for achieving extremely small diameters and intricate configurations for life-saving devices. The process requires incredible knowledge and skill to ensure part accuracy and cost-effectiveness. With both lives and profits on the line, guidewire grinding can often be a high-stakes project management endeavor. 
If you're overseeing a high-stakes guidewire grinding project, this post aims to set you on the right course with seven helpful things to know before starting.
1. The overall guidewire design complexity dictates the best grinding method for your project.
There are two guidewire grinding modes: centerless and outer diameter (OD). High-precision grinding in centerless mode uses a wider grinding wheel to achieve an elevated level of length and diameter control. As a result, it's ideally suited for less complex geometries. Conversely, OD mode uses a narrow grinding wheel, making it ideal for more intricate designs.

Learn more about the different guidewire grinding methods on our website.
2. DFM services assure that your guidewires can be produced repeatedly and reliably according to your requirements.
A manufacturer with design for manufacturing (DFM) experience can greatly influence the success of your project. DFM uses input from manufacturing engineers, designers, technical developers, and production teams to challenge a design to ensure the manufacturing process will be smooth. They assess the part quantity, material, complexity, tolerances, and secondary operations and suggest modifications that will enhance accuracy, reduce costs, enhance efficiency, and expedite the production timeline.
3. Access to modern, high-tech equipment is the only way to achieve near-zero tolerances.
High-caliber guidewire grinding machines are essential for meeting today's increasingly challenging guidewire technical requirements. If your design contains intricate features or geometries or requires extra-small diameters, ensure your manufacturer has the latest technologies to bring them to life.

Curious how guidewire grinding machines work? Check out our blog post on how guidewires are made.
4. Rapid prototyping guidewire services can save costs and time in the long run.
Technologies like additive manufacturing, or 3D printing, can transform your engineering designs into physical prototypes quickly and cost-efficiently. Ensuring your manufacturer offers this capability will help expedite your timeline and save costs, two critical elements of a successful guidewire grinding project.
5. Rigorous quality management and measurement systems are essential for validating the accuracy of your wires.
Ensure your guidewire manufacturer employs a rigorous quality management system (QMS) to verify the accuracy of your parts, including routine wire profile inspections, monitoring, and documentation throughout the manufacturing process. In addition, manufacturers with sophisticated measurement tools add another reliable validation layer. Check out our blog to discover the advanced metrology equipment we use to measure our results.
6. Strategic communication at every phase of the project will enhance your experience and result.
A guidewire manufacturer willing and skilled to thoughtfully listen and ask the right questions makes an exponential difference in the success of your project. When meeting with a potential manufacturing partner, assess their ability to adjust to your communication cadence rather than you having to adjust to theirs. Before signing on the dotted line, also consider whether you felt heard, understood, and supported. These factors can shed light on the quality of your future experience with them – and the result.
7. A seemingly impossible guidewire manufacturing challenge doesn't have to throw your project off course.
Tolerancing, materials, R&D uncertainties, tight launch schedules, and volume consistency are among the top medtech manufacturing challenges. However, don't let previous failures or rejections hold you back from pursuing success. Not all guidewire grinding companies reach the same conclusion about the viability of a guidewire because some may not have the expertise, technology, and perseverance to develop innovative solutions to seemingly insurmountable obstacles.

In a real-life scenario, we were challenged to manufacture bend-free vascular wires that our competitor couldn't produce. So, we devised a multi-faceted solution that allowed our medtech client to secure a reliable supply chain and scale their business. Learn how we accomplished the near-impossible on our blog.
This post contains a few helpful things to know before starting a guidewire grinding project. Contact our medtech manufacturing experts to discover more helpful pointers that can steer you in the right direction. If you're ready to get the ball rolling on your project, reach out to request a quote.